4 min read
Staff Spotlight: Meet Jack-of-all-Trades OHI Staff Member, Guillermo Romero
By: OHI on Nov 3, 2022 12:00:00 AM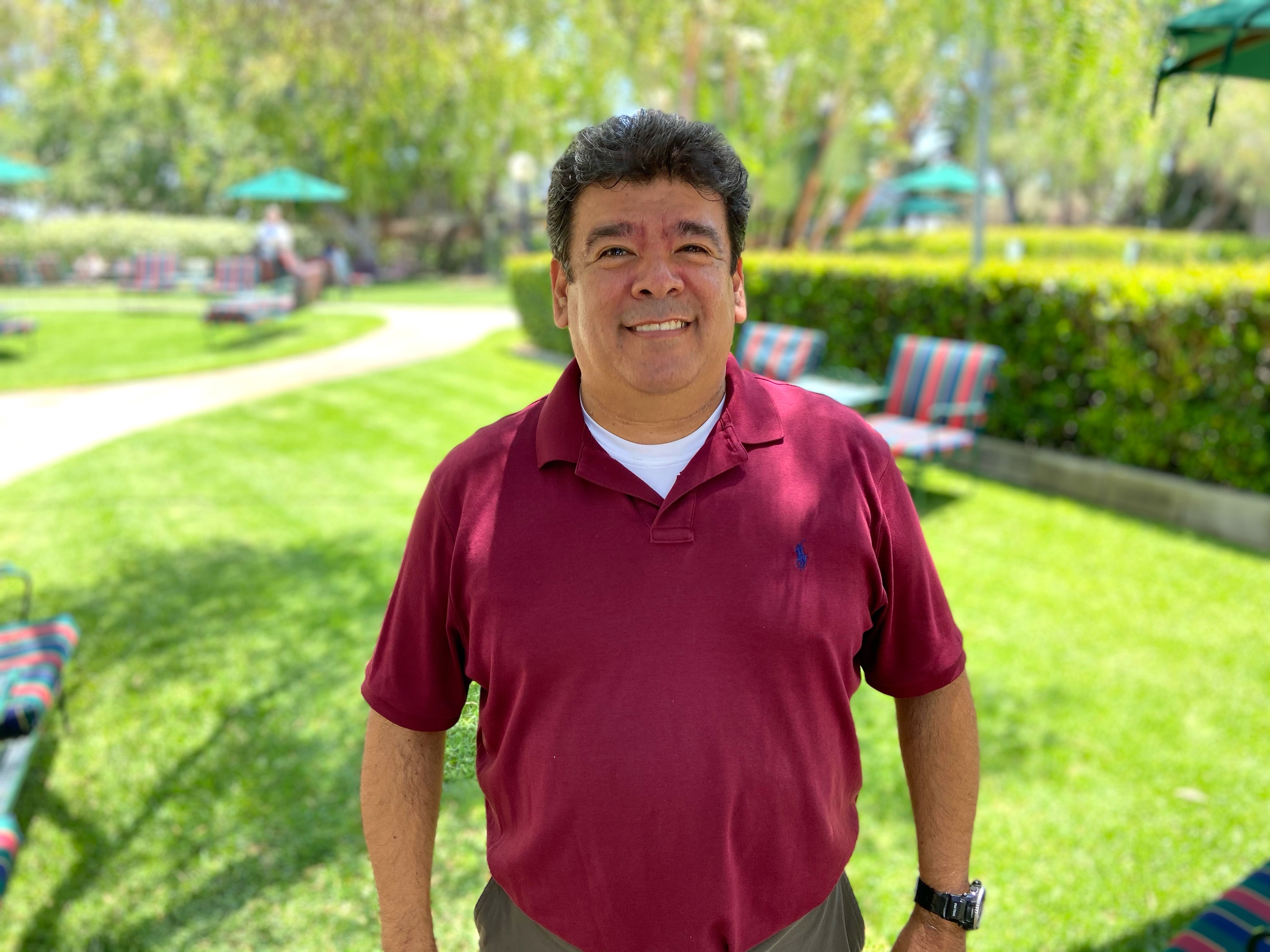 Guillermo Romero is exactly what you think of when you say "Jack-of-all-trades." A native of Peru, he's lived all around the world. He's multi-lingual. He studied industrial engineering in college. He trained as a sommelier in Spain. He worked in the hospitality industry at Marriott for a decade. And he has worked in various departments at OHI from Housekeeping to Guest Relations.
Oh yeah, and he's a really great human being.
"I honestly love my job," said Guillermo. "I believe in the healing power of the OHI for Life program. I enjoy the guests. I appreciate the staff. I'm just really grateful to be here."
Guillermo immigrated to the United States almost 20 years ago, and joined OHI in 2013. "I came to OHI looking for a better work/life balance," said Guillermo. "At the time my son was only 5 years old, and I didn't want to miss his childhood. OHI looked like the kind of organization that valued its employees, and valued what they could contribute to the guest experience. I've been very happy here for the last 9 years."
Guillermo started as Assistant Housekeeping Manager, was promoted to Housekeeping Manager, and is currently Director of Guest Services. He also works on projects with the Facilities Department. "As Director of Guest Services, I oversee the staff in Housekeeping, the front desk, security at the gate, and all of the Managers on Duty. As our Board approves projects that reinvest in the campus facilities, I also work on executing them. A facilities improvement project could be anything from renovating guest rooms and classrooms, to replacing the roof, or installing wood floors. I am in charge of budgeting, obtaining materials, and contractor coordination. Many of our project ideas come directly from guest survey input. Our goal is to always make sure guests feel at home so they can focus on themselves and the program. If there is anything that a guest says would make them feel more comfortable during their stay, then we work to make that happen. A recent guest suggestion was to renovate the hot tub, and that's exactly what I am doing right now. Everyday is different here. Our Facilities Department handles everything from tree trimming and landscape management to campus renovation and emergency repairs. No matter what the problem, we handle every request that comes our way."
Guillermo works at the OHI San Diego campus, but when it came time to experience the OHI for Life program for himself, he went to the OHI Austin campus to try something new. "My health opportunity was pre-diabetes and caffeine addiction, so I was excited to have the chance to detox and reset my body again," said Guillermo. "I'm not going to lie —detoxing was hard for me. But I had seen so many guests do it who were experiencing a serious health opportunity, and they came out the other side so much better for it. Along with being pre-diabetic I am also borderline hypertensive, and my father died of diabetes, so I wanted to make the most of this re-set. Now I do a weekly 24-hour juice cleanse, I eliminated red meat and alcohol from my diet, I drink more water, and I make sure to get plenty of exercise playing soccer and surfing. I have lost some weight, reduced inflammation in my joints, and feel much more alert and energized. The detox was so worth it! And the staff at the Austin campus treated me so kindly through it all. I couldn't have done it without them. Halfway through the week I was ready to throw in the towel, but they made sure I was as comfortable as possible. That's what's noteworthy about the OHI for Life program — whether your body is detoxing from caffeine, sugar, nicotine, chemo chemicals, or other toxins, you are going through a lot physically. The staff knows it's important to support you mentally, emotionally, and spiritually as they make your body as comfortable as possible. No one shows more heart than the OHI staff. That's why 75% of all guest bookings are return guests. Once you experience the OHI for Life program, you'll want to come back over and over again to reboot your body, mind, and spirit. That's what happens here every single week of the year."
Guillermo knows the OHI for Life curriculum well, so it's difficult for him to choose a favorite class. "All of them are great, but I really love the Elimination class," said Guillermo. "I had no idea the body could eliminate toxins through a variety of ways like juicing, lymphatic exercise, and massage. The healing power of the OHI for Life program is truly amazing."
Guillermo has simple advice for guests. "Invest in yourself, and make the time to come here," said Guillermo. "Whether you are facing a health opportunity or just want some 'me time', you won't believe how much better you can feel every single day of your life."
Optimum Health Institute is here for you! We will motivate you to stick with your commitment to health and discover new ways to empower yourself. Explore the holistic healing program offered at OHI. This program offers three week-long sessions, where you will learn to cleanse the body, quiet the mind, and awaken the spirit.
Call OHI at (800) 588-0809 or visit www.OptimumHealth.org today for more information.