OHI Austin Campus
In this rural setting, you can escape your hectic world to rejuvenate in a safe place where you can connect with nature and bask in the support of a close-knit community focused on healthy living.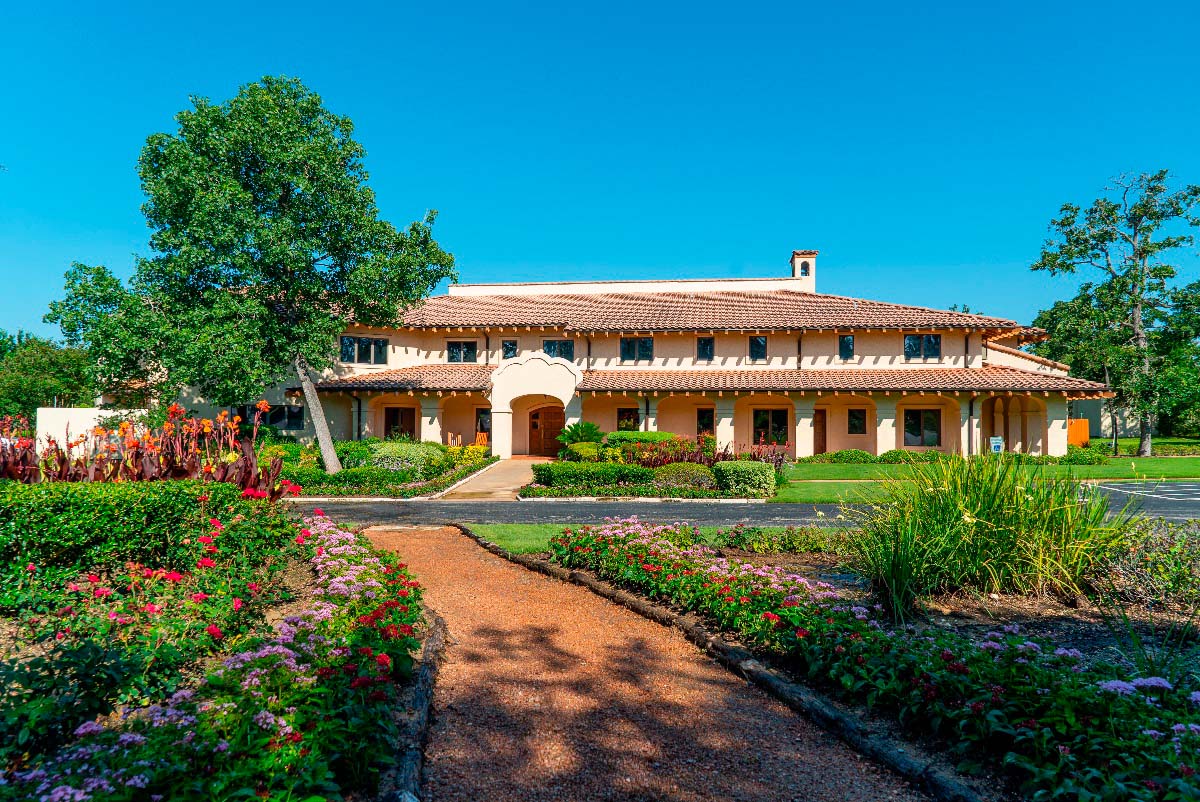 The OHI Austin mission was established in 1997 and is located on 14 wooded acres in central Texas – 16 miles east of Austin and 20 minutes from the airport. The Hacienda-style house consists of 18 guest rooms, a Great Hall with its stone fireplace, our dining room, and classrooms where small class-sizes afford extra personal attention.

During your stay, take time to enjoy a quiet walk in our beautiful garden or along peaceful wooded trails. Visit the chapel for quiet contemplation. Stop by the Optimum Health Store where you can purchase books, personal care products, and more. Or grab your swimsuit for a refreshing swim or relaxing hot tub. Enjoy your time of relaxation and renewal at OHI Austin – your "home" away from home.
Tuition & Fees
New community members: See tuition and fees listed below.
Returning community members: Call for your special pricing: (800) 588-0809
Room fees are in addition to program tuition. The program tuition cost covers all classes, meals, materials needed to complete the program. Tuition per week includes Sunday to Sunday.
We offer a variety of rooms for a low weekly fee. Rooms are only available to guests participating in our program.
Tuition and fees are effective for program participation through October 7, 2023.
See our current Special Offers.
Commuters: For those who live close to our Austin campus – Pay Tuition Only – Enjoy the benefits of the program while sleeping in your own bed each night. The cost of tuition covers all classes, meals, and materials needed to complete the program.
Standard Room
Adjoining Bath (Queen Bed)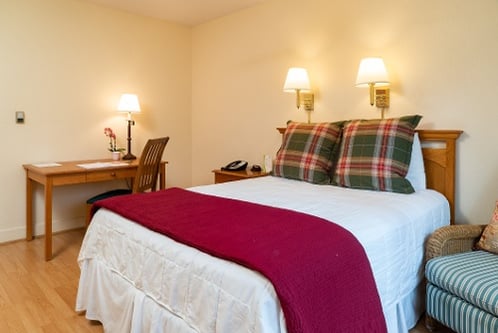 Located on the ground or upper level, these medium-sized guest rooms include a queen bed. This room shares a common bathroom which includes a shower/bath with a neighboring guest room.
Cost per week:
Tuition: $1,725

Room Fee: $855

Total: $2,580
Queen Private Rooms
Private Bath (Queen Bed)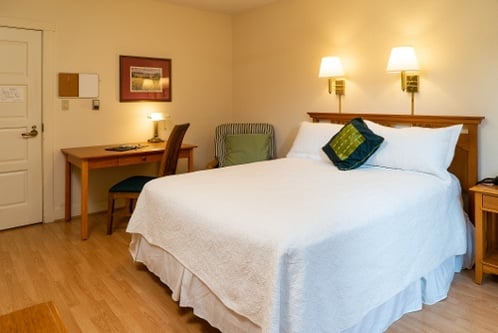 Located on the ground or upper level, these rooms include queen size beds and private baths.
Cost per week:
Tuition: $1,725

Room Fee: $955

Total: $2,680
King Private Rooms
Private Bath (King Bed)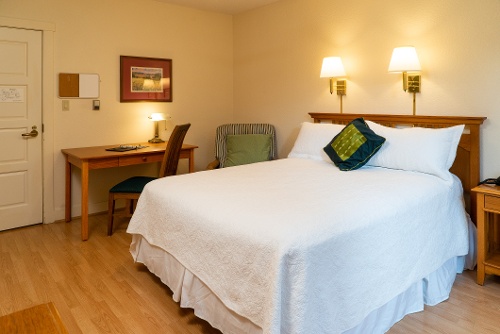 Located on the ground or upper level, these large-sized rooms include king-size beds and private baths.
Cost per week:
Tuition: $1,725

Room Fee: $1,005

Total: $2,730
Guest House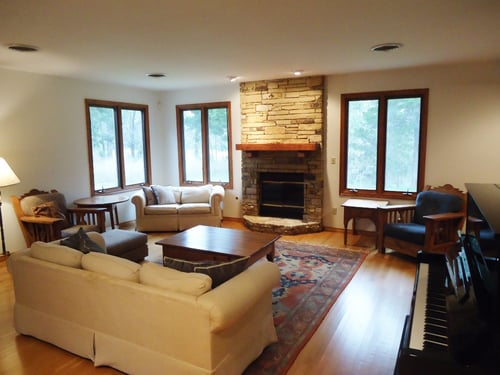 The guest house includes a King room with a king-sized bed, a private spa-like bath in a beautiful sunken garden tub, and complete access to the common living quarters of the guest house. The Queen room includes a queen-sized bed and a private bath.
The Guest House common areas include a large living room with a stone fireplace and piano, dining area, kitchen, a half bath, and a small laundry.
Our Policies
Room fees are subject to change without notice.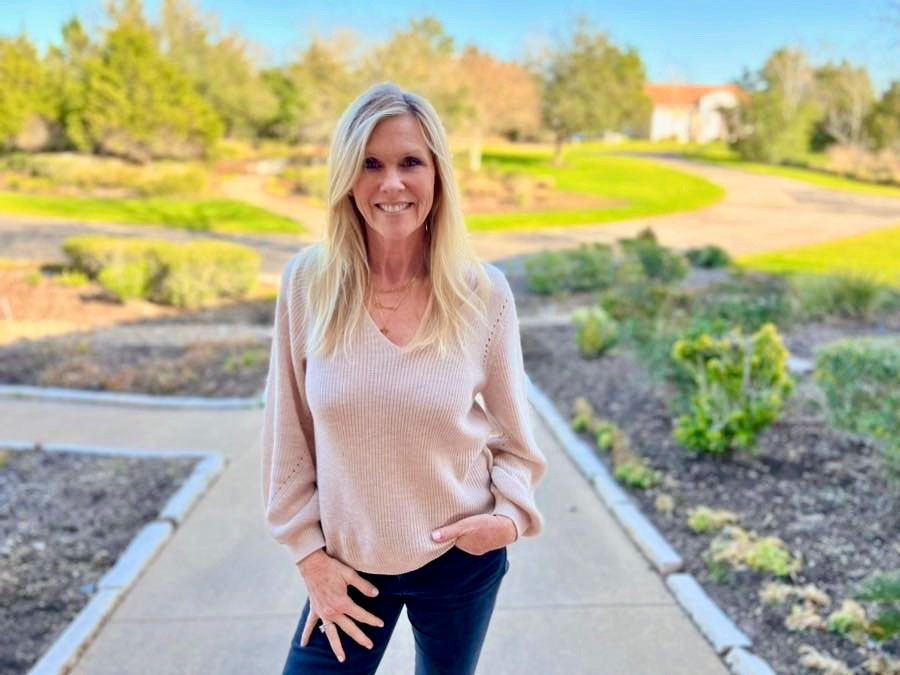 Danielle Demko
Executive Director
OHI community member since 2018

"I'm passionate about people—and inspiring them to live life at the highest level. That's why it's such an honor to encourage and cheer our community members on as they navigate their healing journeys. I've also pursued my own healing journey through the years—and joining OHI finally sync'd what I knew instinctively and had learned over the years about the connection between body, mind and spirit. Its simple truths are profound!"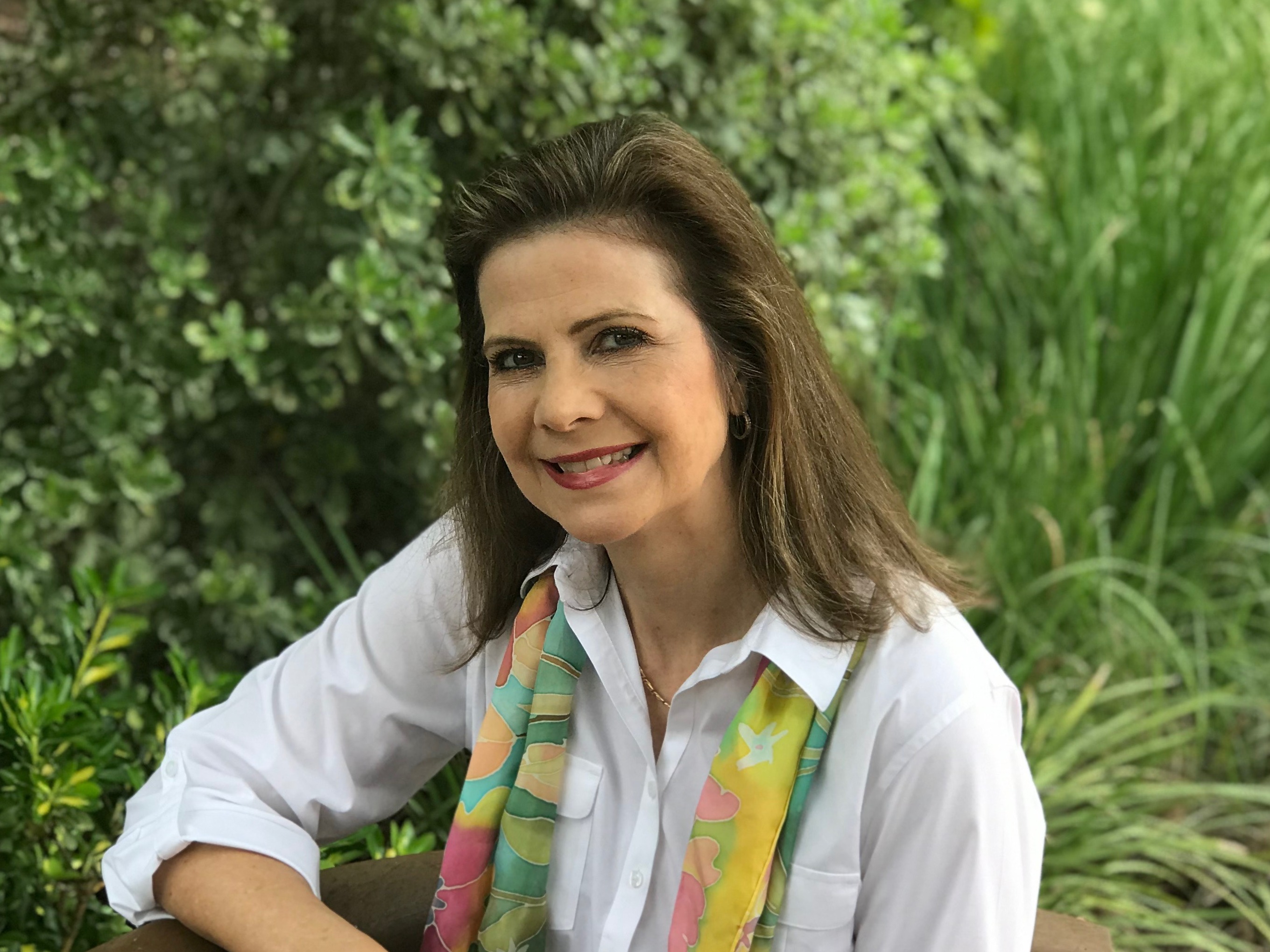 Dr. Suzi du Toit, D.C.
Secretary of the OHI Austin Board, Facilitator
OHI community member since 1997

"My experience has been very rewarding to serve on the board of OHI Austin. It has allowed me to extend my stewardship to the Optimum Health Institute. My passion has been to inform the guests with the program material and therefore empower them to make the right choices for their body, mind, and spirit balance. As a Board Member, decisions are made to continue supporting the program that has enlightened so many people around the world!"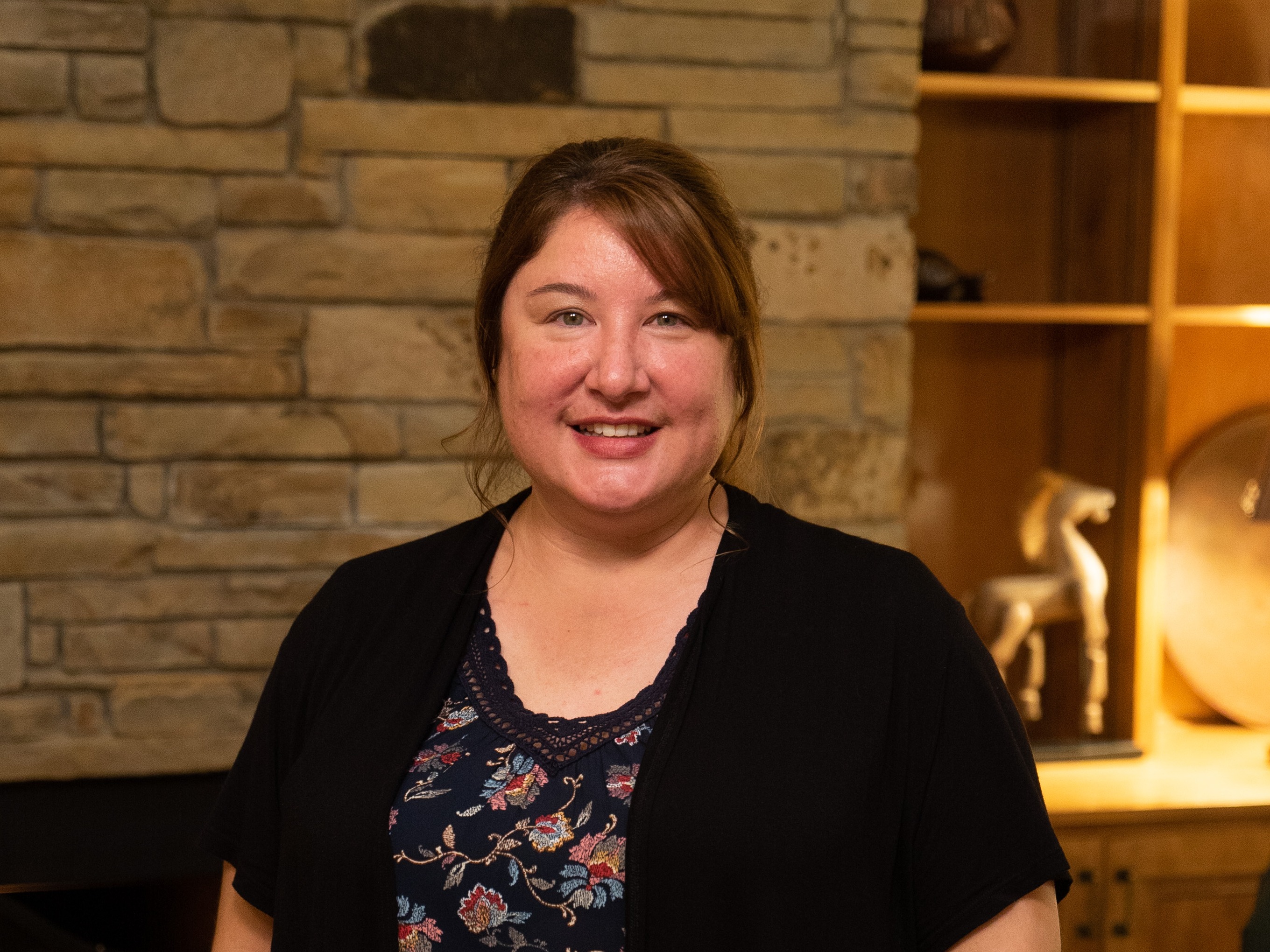 Marianne Arriaga
Director of Operations and Contact Center
OHI community member since 2012

"I once read, 'The day you find a job you love, is the last day you'll ever have to work'. For me, that day was the day I discovered OHI. It inspires me. The company's mission, values and principles make me proud to be part of the team."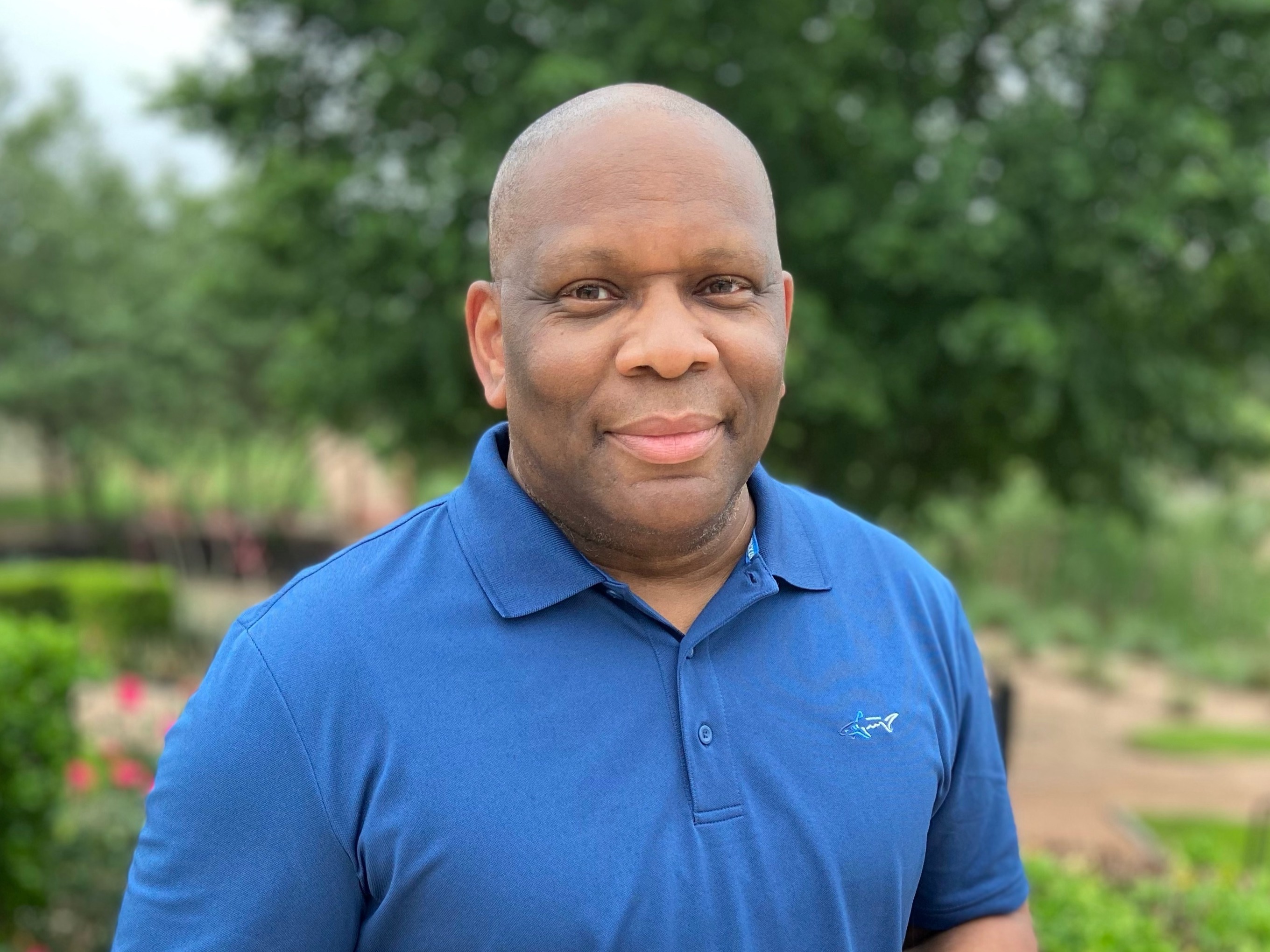 Pharon Wilson
Kitchen & Greenhouse Manager
OHI community member since 2018

"I believe career starts with 'care' and feel blessed to bring my profession and passions full circle here at OHI. As a former guest, I saw OHI as a healing refuge - and now get to return the favor. It took 19 years at P&G followed by a career change into health and wellness, but the journey has been invigorating and I'm excited to help others succeed in their own wellness journeys."
OHI Austin Campus
265 Cedar Creek Road
Cedar Creek, TX 78612
(800) 588-0809
Our 16-acre campus is located in Cedar Creek, TX, just 16 miles east of Austin and 20 minutes from the Austin-Bergstrom Airport. Parking is available at our secure community.

For transportation from Austin-Bergstrom Airport to OHI Austin, we recommend the following drivers and companies: Johnathan with Skip Around Town (504) 710-4008 and Absolute Rides (512) 584-5693. Please call at least 48 hours ahead to schedule pick up from the airport and other transportation needs.
Disclaimer
Optimum Health Institute-Austin is not a hotel, spa, or healthcare facility. Optimum Health Institute-Austin is a healing mission of the Free Sacred Trinity Church and is tax-exempt, non-profit Texas corporation organized pursuant to Texas' Nonprofit Corporation Law. Optimum Health Institute-Austin is organized exclusively for religious purposes within the meaning of Section 501(c)(3) of the Internal Revenue Code of 1986, as amended. The Americans with Disabilities Act provides an exemption for religious organizations. 42 U.S.C. § 12187. Pursuant to this exemption, the provisions of the Americans with Disabilities Act that address public accommodations and services operated by private entities do not apply to religious organizations or entities controlled by religious organizations, including places of worship.