3 min read
Listening to Body Wisdom
By: OHI on Nov 13, 2012 12:00:00 AM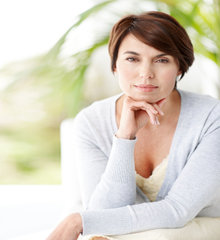 Your colleague takes credit for a report you've been working on for weeks. A few days later, you wake up with laryngitis.
While you have the nagging feeling you should be meditating more, there just isn't time – especially since you might have to make a doctor's appointment because your left ear feels blocked up.
After a challenging childhood where you were shown little love, you still have trouble trusting people. And your recent medical tests showed you're pre-diabetic.
What's going on here is your body is showing you there is a literal and very strong connection from what you think, to how your physical self responds.
While we at the Optimum Health Institute (OHI) teach about the body-mind-spirit connection, you don't have to go any further than your own frame to see the proof.
We are spiritual beings having a human experience. When something happens on a spiritual level, for instance, like you feel you're too busy to meditate and pray regularly, that spiritual imbalance must become denser so you'll pay attention. It drops from a spiritual issue to a mental one – you began chastising yourself that you haven't made time to pray in you can't remember how long, but you still put it off.
If the mental obsession still doesn't produce the desired shift, the issue must become denser yet, and manifest in the physical form as something like a plugged ear. When you're consciously aware that the body will signal spiritual imbalances, you might be able to make the connection – the left side of the body represents the feminine and spiritual aspect of taking God energy in, while the right side represents the masculine, and how you direct your energy in the world. So difficulties with the left ear can signal you're not listening to the spiritual messages you're being given. Slow down, mindfully meditate and pray for spiritual direction, and see if that ear might not just "open up" on its own.
When you either willingly or unwillingly yield your power to someone else, like letting your dishonest colleague take credit for your work, your throat – the center of communication and how you use your will – will usually signal the imbalance. Coughing, a sore throat or even completely losing your voice can force you to face the consequences of not speaking up and blocking that truth that desperately wants to be heard.
What about the onset of diabetes? In her fascinating book, You Can Heal Your Life , author and spiritual sage Louise Hay suggests that people who don't have enough sweetness in their life can experience an insulin imbalance, and develop that particular health opportunity.
Louise's book lists just about every medical issue you can imagine, and the corresponding thought process that very likely either caused, or greatly contributed to that particular health opportunity. She also offers readers specific affirmations geared to shifting the mind's past attitude towards an issue to facilitate healing on every level. You can purchase from the OHI Store by calling (888) 643 -7867. As Buddha said, "What we think, we become." Affirmations, meditation and prayer are powerful spiritual tools for quieting and redirecting the mind to focus on balance, positive new behaviors and optimum health.
When we can begin to see physical challenges as an indicator that there's a deeper truth to the situation, and an opportunity to learn more about ourselves, we can truly appreciate how the body-mind connection is a powerful spiritual gift.
When your body, mind, and spirit are aligned, you can achieve good health. If you are looking for a holistic healing program, in San Diego or Austin, visit Optimum Health Institute . We can help you achieve your mental, physical, emotional and spiritual goals for optimal health. Call us at (800) 993-4325 to learn more.